Honoring and Commemorating the Resistance against Anita Bryant and John Briggs in 1977/1978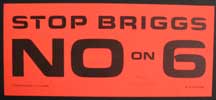 Join us on Sunday June 25th, 2017 in San Francisco at the annual Pride Parade
View the Press Release
Marcher & Contingent Monitor "Day Of" info for We Fought Back! 2017 Parade:
Arrival Time: Marchers/monitors 9:30 to 10am. Please bring your own Bryant or Briggs signs if you have one. We are making only a few signs to pass out.
Assemble At: Corner of Steuart St at Mission. S/W corner just before Mission, contingent #006. Enter Steuart from Mission or Howard. If walking up from Howard, we are on left side just before Mission.
A group of us are marching together as a contingent to commemorate the 1977 and 1978 parades and their influence within our community and impact on public opinion against Anita Bryant and State Senator John Briggs.
We are asking people who worked on these early parades and activists that worked on resisting Bryant and Briggs in 1977/78 to be a part of our contingent on Sunday June 25th, 2017. We are a marching contingent, participants need to be able to walk or use a scooter/wheelchair.
Click Here To Register For Contingent Participation
We are also looking for volunteers to march with us and hold banners and signs, be contingent monitors and to assist the marchers while going up Market Street.
For more information:
http://www.impactstories.org/Briggs.htm
Email: glenne@impactstories.org
THANK YOU!
NOTE: We will post more parade contingent information and assembly area information as it becomes available to us.

----- Click flyer image below to see large version -----